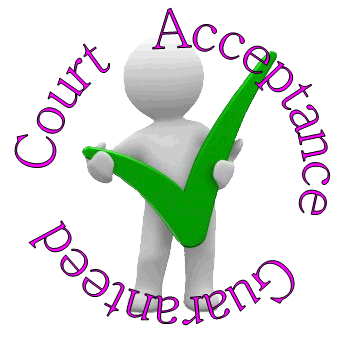 ---------------------------------
Thousands of Satisfied Court Ordered Clients
--------------------------------
Why Court Ordered Classes?
Established in 2007 we are the first and only court accepted program to offer live video group sessions. We have no hidden fees or costs. No registration fees. Each of our students, upon registration, will receive a "Proof of Enrollment" without any additional paperwork costs. Our Drug and Alcohol Awareness Courses are all in a Classroom Environment from the comfort of your home.
--------------------------------
Those Judges that are familiar with us know how our classes work and the participation level required to complete them, that is why we are able to provide our programs in 99% of the cities on those lists below. That is the same reason that the judges, officers or social workers that have reviewed us do not consider our Drug and Alcohol Awareness Program as on-line classes but as classroom classes. Each participant will be assigned an individual case manager, and, upon completion of our program, will receive a "Certificate of Completion" again without any additional fees.

Drug Awareness
Working with Drug Courts across the nation, our Treatment plan drugs may include individual or group counseling, or a combination of both. Counselors will work collaboratively with clients to identify their readiness to make changes in their drug use. In addition, counselors will help clients identify healthier coping strategies to replace the use of drugs. Working together toward the goal of lowering health risks by disengaging from harmful behaviors. Live "IN-PERSON" Online Drug Awareness Group treatment can help clients know that they are not alone in their struggles with drug abuse. It is a setting for giving and receiving support and feedback about what skills and tools have been effective. How it Works.
Register Here

for Drug and Alcohol Awareness Program Enrollments have no additional registration fees.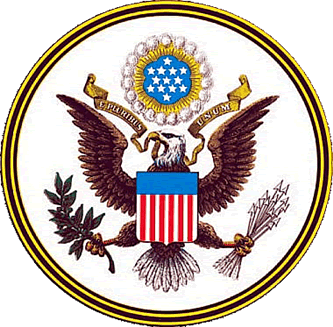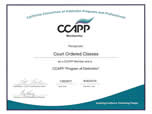 "PROGRAM OF DISTICTION" since 2011 (CCAAPP). view
Drug Awareness Program
Register Here


The Court Ordered Classes model of intervention used in this program has been approved for continuing education by:


Court Ordered Classes is a registered member of Mental Health America (MHA) as an organization. view


Court Ordered Classes a Parole and Probation Department Approved Provider. view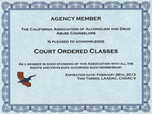 Court Ordered Classes is an agency member of the California Consortium of Addiction Programs and Professionals (CCAAPP). view
Court Ordered Classes is accredited with TrustLink. view