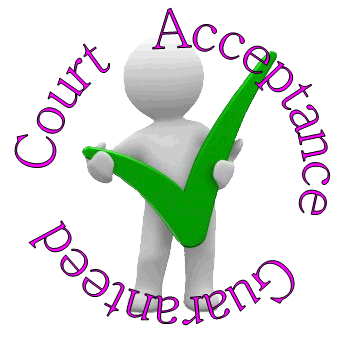 ---------------------------------
Thousands of Satisfied Court Ordered Clients
--------------------------------
Why Court Ordered Classes?
Established in 2007 we are the first and only court accepted program to offer live video group sessions. We have no hidden fees or costs. No registration fees. Each of our students, upon registration, will receive a "Proof of Enrollment" without any additional paperwork costs. Our Juvenile Betterment Courses are all in a Classroom Environment from the comfort of your home.
--------------------------------
Those Judges that are familiar with us know how our classes work and the participation level required to complete them, that is why we have been approved in 99% of our cases by the courts in the cities on those lists below. That is the same reason that they do not consider our Juvenile Betterment Program as on-line classes but as classroom classes. Each participant will be assigned an individual case manager, and, upon completion of our program, will receive a "Certificate of Completion" again without any additional fees.



Court Ordered Classes a National Anger Management Association Approved Provider.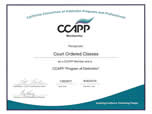 "PROGRAM OF DISTICTION" since 2011 (CCAAPP). view
Material For Court
Course Syllabus/ Curriculum - Course Credentials - Registrant Representation
Take care of your Court Ordered Classes At-Home
Juvenile Betterment Program
Working with Juvenile Courts across the nation, these classes allow children between the ages of 13-18 to learn tools to better themselves. Classes are a blend of domestic awareness, anger, drug/alcohol and criminal behavior. Often teens find it difficult to attend any court ordered class due to travel distances, parent schedules, and most other life commitments. These courses are ideal for court requirements but lots of parents or guardians have their child or children take this program for educational purposes as well. How it Works.
Register Here

for Juvenile Betterment Enrollments have no additional registration fees.
JUVENILE BETTERMENT PROGRAM

Domestic Violence Court targets misdemeanor cases (the felony cases are heard in Superior Court). There is one Domestic Violence Court in each county's two criminal justice branches. A judge is usually permanently assigned to these two Courts.
The juvenile justice system is different from the criminal justice system. Each state has special courts -- usually called juvenile courts -- to deal with minors who have been accused of violating a criminal statute. The proceedings are civil as opposed to criminal. So, instead of being formally charged with a crime, juvenile offenders are accused of committing a delinquent act.
A juvenile case gets started when a prosecutor or probation officer files a civil petition, charging the juvenile with violating a criminal statute and asking that the court determine that the juvenile is delinquent. If the charges are proved and a delinquency determination is made, the juvenile offender comes under the courts broad powers. At that point, the juvenile court has the authority to do what it considers to be in the best interest of the juvenile. Often, the juvenile court retains legal authority over the minor for a set period of time -- until the juvenile becomes an adult, or sometimes even longer.
To be eligible for juvenile court, a young person must be a considered a "juvenile" under state law. In most states, the maximum age for using juvenile court is 18. In a few states the age is 16 or 17, and in one (Wyoming) the maximum age is set at 19. Most states regard children 14 and older as capable of forming criminal intent, so the majority of cases involving young people from 14 to 18 years of age are adjudicated in juvenile court. In certain circumstances, a juvenile can be tried in adult criminal court.
Court Ordered Classes provides you and the Court with Proof of Enrollment and Progress Reports for all of our enrolled Juvenile Betterment class participants. Consequences of non-compliance are an extension, of not more than additional 14 days or remand to custody if no Proof of Enrollment is furnished or a bench warrant to be issued if they fail to appear as ordered.

Following Proof of Enrollment appearances, defendants appear before the same Juvenile Court for progress reports at intervals to be delivered by the Court. Please remember that Court Ordered Classes provides both you and the Court with Proof of Enrollment and Progress Reports for all of our enrolled Juvenile Betterment Program class participants. (The first progress report appearance is 28 days after enrollment; subsequent appearances are at the Court's discretion, and depend on the quality of the defendant's progress.)

PROCEDURES IN A JUVENILE COURT CASE
During the Juvenile Court progress report hearings, there is sincere interchange between the Court and defendant. Good progress is always positively reinforced directly by the Court. Poor performance is negatively reinforced in various ways, ranging from verbal admonishment to incarceration. Progress report materials for the Court's consideration include written reports from the treatment providers and written reports from the probation officer.
Once again, Court Ordered Classes, upon participant request can provide the Probation Officer, along with the Court, Proof of Enrollment and Progress Reports for all of our enrolled Domestic Violence class participants.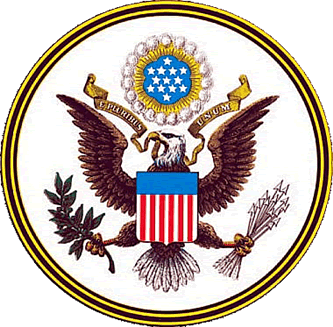 Juvenile Betterment Courses
Register Here


The Court Ordered Classes model of intervention used in this program has been approved for continuing education by:


Court Ordered Classes is a registered member of Mental Health America (MHA) as an organization. view


Court Ordered Classes a Parole and Probation Department Approved Provider. view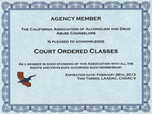 Court Ordered Classes is an agency member of the California Consortium of Addiction Programs and Professionals (CCAAPP). view
Court Ordered Classes is accredited with TrustLink. view